Welcome to our Year 12 prospective students' Open Evening information page. This page will offer you comprehensive information about Denbigh School.
Denbigh Sixth Form is part of a wider organisation that has at its core the values of 'Care, Education and Opportunity' for young people. It is our ambition as a Sixth Form to provide excellent care for our students so that they can achieve their potential. We believe that when you look after your students and staff, everything is possible. This must be underpinned by a first-class educational experience where, within a culture of continuous learning, we all strive to do our very best, whatever the challenges. Lastly, we believe that providing opportunities beyond the classroom enables our students to see the relevance of what they are studying and start to explore where their journey will take them after Denbigh. The opportunities that we provide throughout the Sixth Form are both inspirational and enriching.
We hope that you find the information presented on this page useful.
Virtual School Tour
Join us for a virtual tour of our wonderful school. Visit each of our faculty areas and take a look at our outstanding Sixth Form study and social facilities, including their very own Cafe Pronto. Take a virtual walk down our Street where students dine and socialise before moving outside to see our outdoor facilities and sports pitches.
Faculties
Please take some time to explore our different faculties areas by clicking on the respective link below. Each faculty has a dedicated page on our school website that introduces the faculty, an opportunity to explore the Schemes of Learning for the subject, and the Extra-Curricular Opportunities offered by the faculty.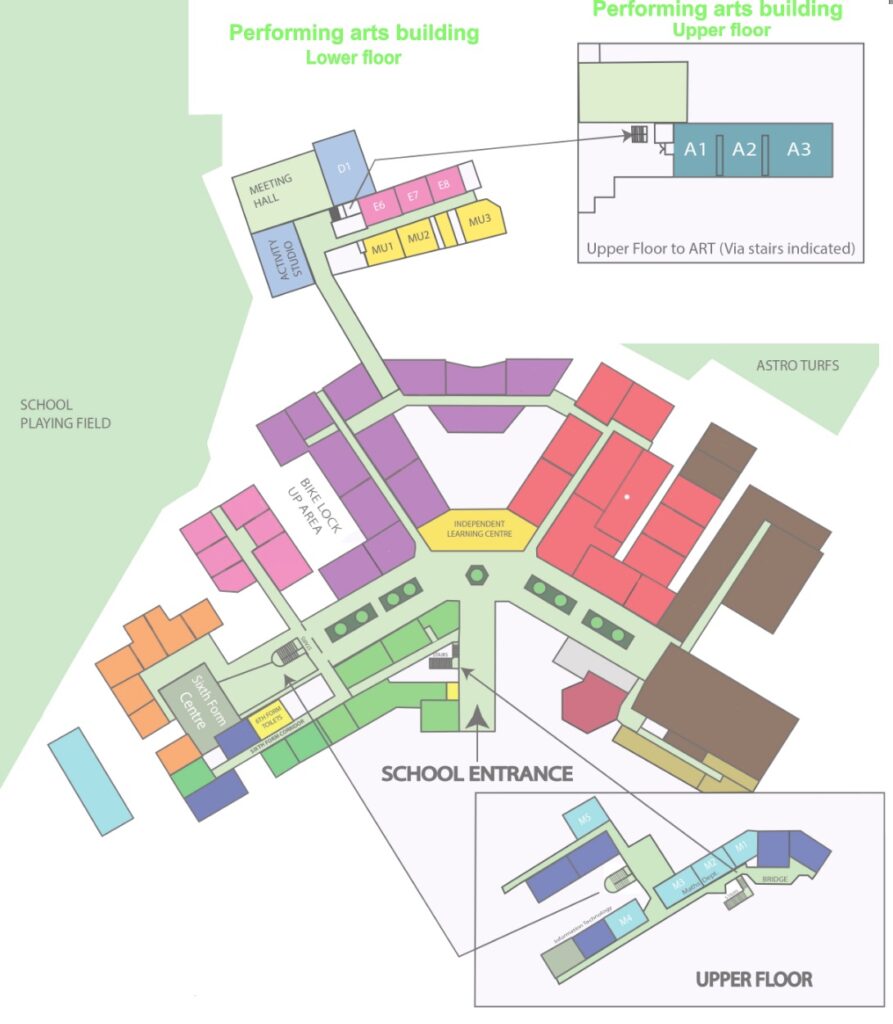 Sixth Form Pastoral Support
Mentoring in the Sixth Form
Denbigh is proud that every Sixth Form student is mentored regularly on a one-to-one basis. Every effort is taken to pair students with a mentor who teaches at least one of the subject areas in each student's timetable. The Sixth Form Mentor provides guidance to their mentee in the one-to-one meetings with regard to their academic progress, university or apprenticeship plans. Mentoring will also address the emotional challenges faced by Sixth Form students. We believe that the pastoral support we provide is vital in supporting the mental and physically well-being of all of our students.
In addition to the one-to-one sessions, the student will also have two compulsory 30 minute group mentoring sessions per week. In these mentoring sessions, we focus on the A-Level mindset which will aim to support and develop the student's commitment, motivation and productivity. Mentors will help the students look at aspects of prioritisation, planning for progress, general study skills, and effective revision. The mentoring process allows the mentor to get to know and understand the student. As a result, the mentor will become the student's best advocate and be in a position to advise them as they plan for their future. Successful mentoring will lead the student to become a confident independent learner.
Student Experience
Denbigh Sixth Form attracts students from a number of local secondary schools in and around Milton Keynes. One of the features that we are particularly proud of is the experience that all students go through when they arrive at Denbigh School, whether they are external or internal students. As the video will demonstrate, the support available through mentoring and the wider Sixth Form community provides an excellent experience for students transferring from other schools. The Denbigh experience is about more than just a focus on academic excellence, it is very much about developing the whole person. The opportunities in sport, the arts and wider leadership roles all contribute to the student experience. Denbigh Sixth Form is concerned with preparing our students for their lives post A-Levels, whether that is at University, in an apprenticeship or in a career. These experiences, available to all, will provide an excellent grounding on which to make the next steps in the students' lives.
We provide all of our students with the opportunity to sample A-Level lessons in subjects that they are interested in. For our current Denbigh Year 11 students, we run a Futures Day in February and then, in July, there will be two Induction Days where all students who have a conditional offer of a Sixth Form place at Denbigh are invited in to experience all aspects of being a Sixth Former at our school.
Football Academy
Denbigh's Football Academy has been part of the Denbigh Sixth Form experience for almost 20 years now. During that time, it has gone from strength to strength, with graduates going on to a variety of pathways, both academic and vocational. Some of the alumni have gone on to complete university courses at leading institutions, whilst others have taken up successful positions in disciplines such as sports coaching, physiotherapy and sports analysis. Successful students will achieve the equivalent of two A-Levels, completing the Level 3 BTEC Diploma in Sport. There is also the opportunity to take an extra A-Level alongside for those students with appropriate GCSE scores.
The Football Academy does not just take on aspiring football players and coaches, it also caters for students who excel in other sports, such as Basketball and Badminton. Perhaps the most important element of this course is the emphasis on developing leadership skills and confidence. Football Academy students are expected to lead activities and sessions for younger students in a variety of locations and settings.
Careers
We have a strong Careers team at Denbigh School, ensuring that students get the right support, advice and careers education to prepare them for their next step.
Careers education is delivered through the following means:
Personal guidance with our independent Careers Adviser
Extra Curricular
At Denbigh School, we believe that trips and visits contribute significantly to a holistic education. Students enjoy themselves and have memorable experiences; they have the opportunity to acquire new knowledge and apply their learning to the "real world". They also acquire new skills and face challenges that enrich their schooling and develop character. All students are invited to take part in the Gold Duke of Edinburgh's Award Scheme which involves a walking expedition with overnight camping. Students develop independence and resilience through this, especially in navigating their route and avoiding getting lost! This is provided as one of the Enrichment options in Year 12, but will run into Year 13 if chosen.
We offer a number of trips abroad every year. The A-level Physics trip to CERN to see the Hadron Collider in Geneva is a favourite amongst our Year 13 students; we offer exchange visits to France and Germany, including sixth form work experience in Caen for A-level French students. Closer to home, Year 13 Geography and Biology students both spend 4 days, at different times of the year, at a residential centre in the Lake District collecting data for their Non-Examined Assessment (NEA) and demonstrating case study skills.
There is also the opportunity to participate in the World Challenge trips. These occur every two years and previous trips have been to Mongolia and China, India and Nepal, Kenya and Tanzania, Peru and Malaysia. The trips take place in July and last for 3 weeks, with the students participating in a physical challenge, a community project and a conservation visit.
There are also opportunities for students to participate in a variety of community projects through the House and School Council or through the Sixth Form Committee.
UCAS and Apprenticeships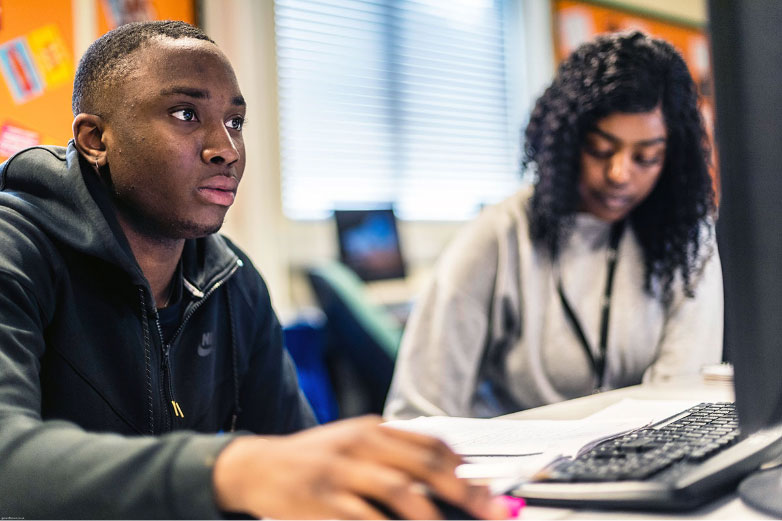 Every year, approximately 75% of Denbigh students apply to University. All applications take place through the UCAS website and students are provided with extensive guidance and support to help them through this process. UCAS also provides information and the means of applying for apprenticeships.
The UCAS process officially starts in school in July of Year 12. However, it is never too early to start looking and doing some research and wider reading about university courses and careers. There is a wealth of experience in the Sixth Form Pastoral Team to guide students through all aspects of the application process, including supporting those students who aspire to become doctors and/or apply to Oxford or Cambridge University. This year we had over 25 students who made early applications for Medicine and Oxbridge courses.
For those students who are considering an apprenticeship or going straight into a career then support is also provided. Through mentoring sessions and our Post-18 Futures Day, the Sixth Form Team work closely with the school's Careers Advisor to provide students with comprehensive advice and guidance on apprenticeships and employment opportunities. Employers from a wide range of businesses are also invited into the Sixth Form Centre to talk to the students and provide them with information relating to their specific sectors.
To support UCAS and apprenticeship applications, we also draw on the contributions of the Denbigh Alumni, with ex-students making regular visits throughout the year to speak to our Sixth Formers about their choices and experiences. During our Post-18 Futures Day in July, the Alumni provide more specific guidance about the UCAS and apprenticeship processes and talk to our students about how they made their choices and provide guidance about things to consider.
Enrichment
All students in Year 12 will be expected to choose one enrichment activity alongside their A-Levels. This will be a regular timetabled session of one hour a week and will, in the most parts, lead to a specific qualification. However, it is about more than achieving that qualification. It is the chance to take up an activity that students might not have considered before in order to acquire new skills and experiences.
Enrichment activities are covered in more detail in the video, but some of the more popular choices include the Extended Project Qualification (EPQ), the Sports Leader Award and Cooking.  There is also the opportunity to take Core Maths over two years, providing students with the skills associated with AS Maths and designed to support those students who require elements of mathematical or statistical analysis in their other A-Level subjects. Choices are made during the first couple of weeks in September, with students making three choices based on order of preference.  Every effort is made to provide students with their first choice activity but this cannot be guaranteed.