Denbigh School Students Shine at A Level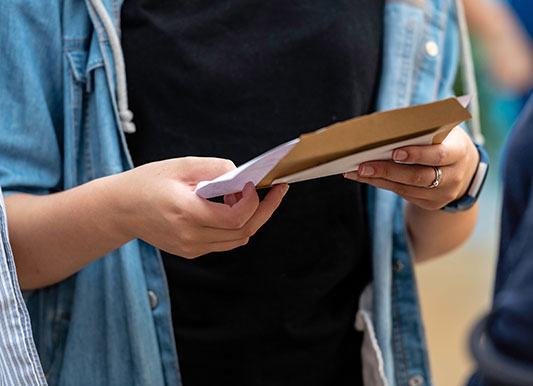 For immediate release – Tuesday 10th August 2021
Denbigh School students have shone in their A Levels overcoming all the obstacles the Pandemic has put in their way to record wonderful results. Nearly 60% of all A Level grades achieved by Denbigh students were the top grades of A*, A or B which is a remarkable achievement considering they faced disruption and on-line learning throughout both years of study in the Sixth Form. There were some fantastic individual successes with eight students achieving the highest grade of A* in all their subjects. A further 20 students achieved A* or A in all their subjects.
Denbigh students have secured places at many leading universities. Students will be studying Law and Modern and Medieval Languages at Cambridge, History, Spanish and Italian at Oxford, Medicine at Birmingham, Architecture at Edinburgh, Politics at Warwick, Law at Leeds and Business Management at Cardiff, to name but a few.
Denbigh's Head of School, Dr Andrea Frame said: 'I am so proud of our students' achievements this year. They have faced disruption and uncertainty from the Pandemic for most of their Sixth Form experience, and yet they have remained calm, been resilient and adaptable and worked extremely hard to achieve these outstanding results. I am also thankful to our staff who have acted with great integrity and professionalism in producing the Teacher Assessed Grades for our students'.
Andy Squires, CEO of the Denbigh Alliance Trust, of which Denbigh School is a member said: 'These results are a credit to both the students and staff at Denbigh School. At the Trust we could not be more proud of them all.'
ENDS