Applying for a Year 7 place starting in September 2024
Milton Keynes Council co-ordinates the admission process for students starting secondary school in Year 7. You must apply to Milton Keynes Council for a place in Year 7 starting in September 2024.
Key dates for Year 7 September 2024 applications
Friday 1st September 2023: Distribution of Milton Keynes Council admissions packs and opening of on-line application process.
Wednesday 11th October 2023: Denbigh School Open Evening for prospective year 7 students and parents. Prospectus and further details will be published on the website.
Tuesday 31st October 2023: Deadline for Year 7 applications to be returned to Milton Keynes Council.
Friday 1st March 2024: National Offer Day. Initial offer of places by Milton Keynes Council on behalf of the Trustees of Denbigh School. Denbigh School is a member of the Denbigh Alliance Trust.
(For more information regarding the application process please visit the MK Council website
Published Admissions Arrangements
For further information regarding the Admissions Process at Denbigh School please see our current published Admission Arrangements.
The Defined Area
A defined area is the area normally served by a school. Denbigh School's defined area is Crownhill, Great Holm, Loughton, Shenley Church End, Shenley Lodge and Two Mile Ash. Our 'Partner' schools are Caroline Haslett, Loughton and Two Mile Ash Junior/Primary schools. If it is your intention to apply to Denbigh School rather than your defined area school then you should be aware that you would be responsible for the cost and arrangement of transport to Denbigh for your child, and that if your preference for Denbigh cannot be met, there is no guarantee that you will then be able to obtain a place at your defined area school, if it is very popular.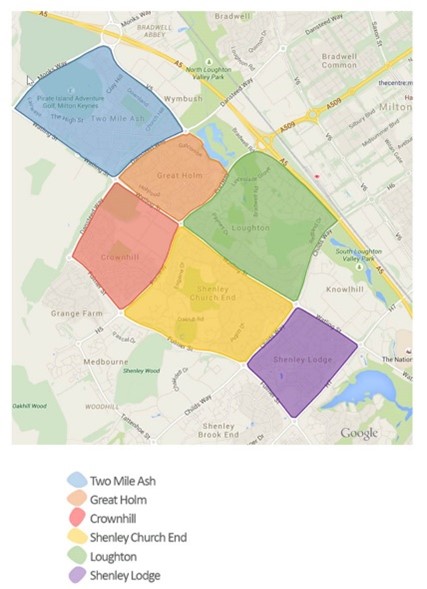 Waiting Lists
In line with our published Admissions Arrangements, we will maintain a waiting list for the current academic year. Parents can ask for their child to be added to the current waiting list for a year group after an unsuccessful application. If any spaces become available, they will be allocated in line with our oversubscription criteria, contained in the published Admissions Arrangements, not by the date the application was received. Please be aware this means your child's place on the waiting list can move up or down. If you would like your child to be added to the waiting list, please email Admissions@denbigh.net. At the end of each academic year the waiting lists will close and you will need to apply again at the start of the next academic year.
Applying for an In-Year place for Year 7 – 11
'In-year admissions' refers to admissions outside of the normal Year 7 admissions round which takes place in September each year. Denbigh School is its own admissions authority and has responsibility for the co-ordination of in-year admissions to the School. As such all in-year applications should be made direct to Denbigh School. Should you wish to make an in-year application for a place at Denbigh School in Years 7 to 11 please download and complete the Denbigh School In-year Application Form (below) and return by email to admissions@denbigh.net or by post to the School address.
Please Note: it is important that you read carefully the guidance attached to the application form before filling it out and note that documentation should be included with your application.
Appeals
Parents have the right to appeal against a decision not to award their child a place at Denbigh School. Please refer to the Appeals Guide for guidance on this process. If after reading the Guide you wish to proceed with an appeal, please complete an Appeal Form and submit it to:
The Clerk of the Independent Appeals Panel c/o Denbigh School, Burchard Crescent, Shenley Church End, Milton Keynes, MK5 6EX.
In-year appeals can be made at anytime after you have received a letter from the School stating no availability of spaces. In-year appeals will be heard within 30 school days from the date the appeal application was received by the school. 
If unsuccessful at independent appeal, there is no right to a second appeal on subsequent applications within the same academic year, unless the school, in accepting the application, considers that there has been a significant and material change in circumstance that alters the application within the oversubscription criteria.
Further Information
Queries in relation to admissions at Denbigh School should be addressed to admissions@denbigh.net